Changing Accountants
Changing accountants is simple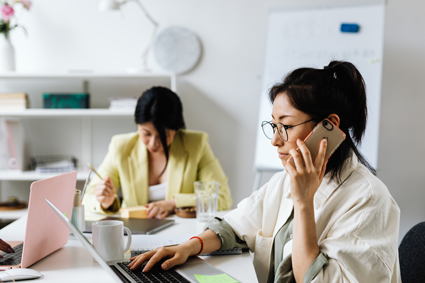 Whatever your reason for considering changing accountants, at PW John & Co accountants in Weston-super-Mare we will make the process as simple as possible for you.
You can change accountants at any time and your previous accountant must provide your new accountant with any relevant information.
How easy is it to change accountants?
Contrary to what your current accountant may lead you to believe, it is relatively easy to change accountants.
If you choose to change to us we will complete the process for you with minimal fuss or disruption to your business.
How much does it cost to change accountants?
Before you change accountants you will have to pay your previous accountant for any work that they have completed.
Providing that you have no outstanding bills, there should be no additional fee to change accountants. Although some accountants may charge a minimal fee to complete the handover process.
Change accountants in 3 easy steps
Contact us to arrange your free, no-obligation consultation. Our Free Consultation typically lasts 30-45 minutes, during which we will discuss your business and the level of support that you are looking for from your accountant.
Inform your current accountant that you are leaving (or instruct us to do so for you). Before you can change to your new accountant you will have to inform your current accountant that you are leaving. We understand that some people may find this difficult, so (if you instruct us to do so) we will deal with all of the formalities on your behalf. We will contact your current accountant for professional clearance and to request any relevant information.
Sign a letter of engagement. The final step is to sign a letter of engagement with your new accountant, who will then be able to request authorisation from HMRC to act on your behalf.
Why choose us
Our service is friendly and personal. You will always deal directly with the same person, who will listen to what you are saying and communicate with you quickly and fully. We believe that a good accountant needs to completely understand your business and be totally pro-active in handling your affairs. We will be honest, truthful and up-front with you at all times.
We offer great flexibility and can provide a range of services. From straight-forward annual accounts preparation through to a total book keeping and accounting support role – we can take care of as much or as little as you want.
We will never surprise you with bills that you're not expecting. In many circumstances we can offer a guaranteed fixed fee system, tailored to your own particular circumstances.
We will always exceed your expectations. When we say that we will do something, we do it. Our pro-active approach ensures our commitment to you and your business.
We provide a free no-obligation consultation. You will receive whatever advice you need and we will provide a fixed quote for you to consider. If we both feel that we can work together, that's great. If not, there's no pressure and no obligation at all.
Find out more
To discuss your requirements in more detail, you can call our team on 01934 412097, email or complete the form on our contact page and we'll be in touch shortly.
Here are some more resources that you might find useful;
Finding an accountant – advice and tips.
Our Services
Accountancy services for businesses and individuals
Meet Our Team
Meet our team of accountants in Weston-super-Mare
Testimonials
Find out what our clients have to say about us and our services
GET IN TOUCH
Book your FREE consultation